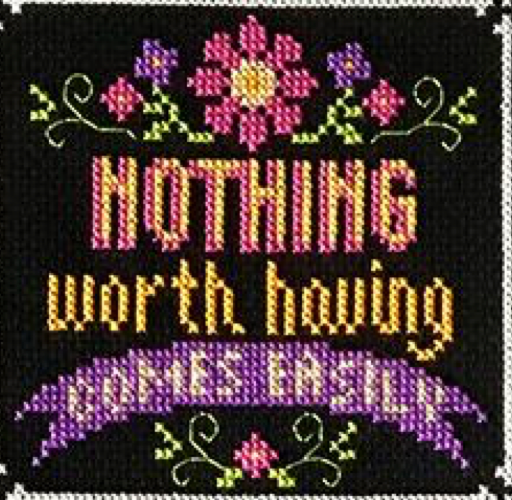 Tiny Modernist ~ Words To Live By ~ Part 3 of 13 It's Worth Having
---
Welcome to the 2019 Yearlong Design by Tiny Modernist! This 13-Part Series features a large central design and 12 smaller monthly designs, each with a bright, fun, positive quote to keep you inspired all year!
We will carry the full series and if you order the first one, we'll email you as soon as each future release is here so you can order it when you're ready for it.  If you have any questions, just ask. 
Release Schedule: (this is the date we can order, please give it time to get to us please):
Border Chart: Available now here
Part 1: (Central Design) January 15th, 2019 - released!
Part 2: February 15th, 2019
Part 3: March 15th, 2019
Part 4: April 15th, 2019
Part 5: May 15th, 2019
Part 6: June 15th, 2019
Part 7: July 15th, 2019
Part 8: August 15th, 2019
Part 9: September 15th, 2019
Part 10: October 15th, 2019
Part 11: November 15th, 2019
Part 12: December 15th, 2019
Part 13: January 15th, 2020
The large design and 12 little pieces will also work individually, so you could stitch & frame them separately if you prefer. 
The 12 little quotes are all positive, fun, with colorful typography, and there are some small motifs mixed in - flowers, boats, rainbow, moon & stars, beehive, banners, etc. They could each work on their own (for smaller finishes, ornaments, cards etc) or in the larger design. 
If you choose to stitch them altogether, download the free PDF border layout chart here.
The large central design is 107h x 115w (7.6" x 8" on 14-ct). Each small one is 58h x 62w (4.1"x4.4" on 14-ct) or stitched all together the entire design is 17"h x18"w on 14-ct.
The cover sample is stitched on 14-count black Aida cloth. It would also work on dark grey, dark blue, or whatever you like! I don't recommend using light colours, because of all the white and light colors.
This chart uses 14 DMC colors (1 skein each, unless otherwise stated): White (3-4 skeins), 745, 743 (2 skeins), 742, 740, 3609, 3608, 3607 (2 skeins), 210, 208, 747, 3766 (2 skeins), 772, and 907 (2 skeins).
---
Share this Product
---
More from this collection