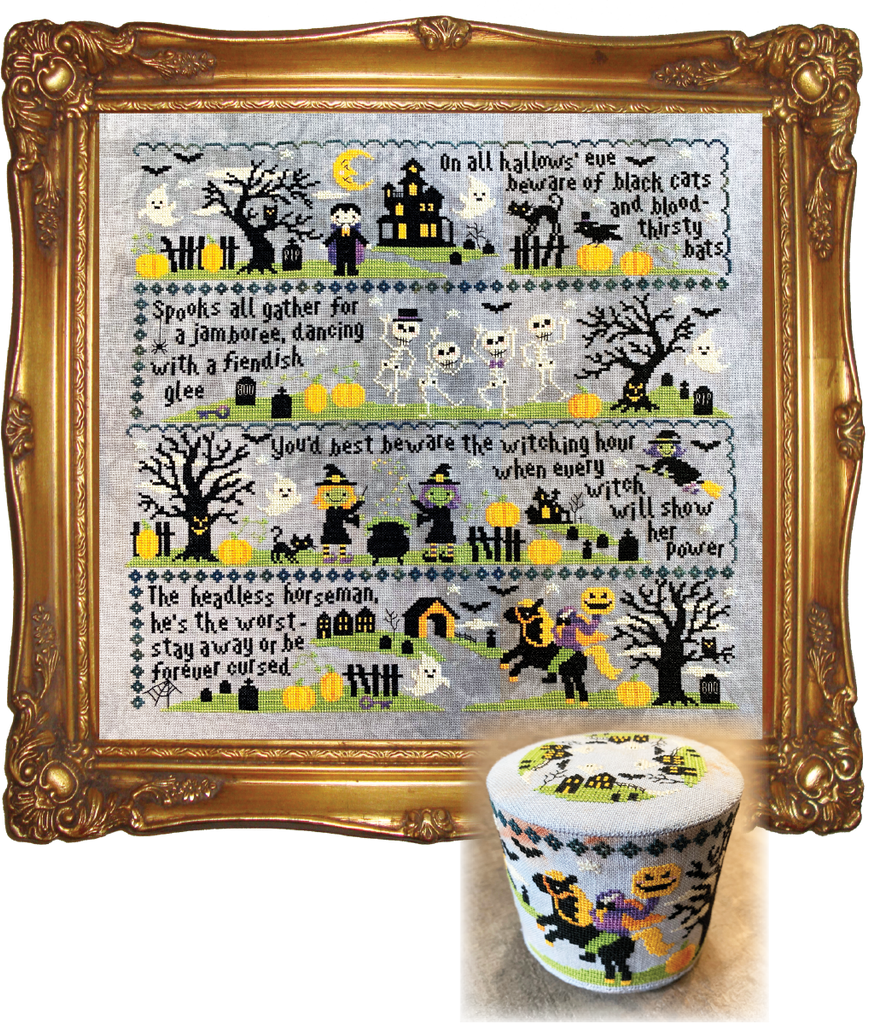 Tiny Modernist ~ 2019 Halloween SAL: Sleepy Hollow. PART 4 The Headless Horseman
---
2019 Halloween Stitch-A-Long! This 4-Part Series features cute & spooky vampires, witches, ghosts, skeletons, bats, cats, and a fun Halloween rhyme on every section.
This design can be stitched together as one large Spooky Sampler, but if you prefer to try a different finish, each section of this design can also be stitched and finished into a Stackable Drum. There are 4 bonus circle designs (to use as the top of the drums) included with each of the 4 section releases, along with finishing instructions to make up the drums. See the sneak peek photo!
Release Schedule: 
FREE Border Layout Chart: Available now here
Part 1: NOW!
Part 2: NOW!
Part 3: NOW! 
Part 4: NOW!

You can choose to stitch the entire border first, or wait and stitch each of the 4 sections as it is released. If you choose to stitch this design as a full sampler, download the free PDF border layout chart here.

There is a drum finish video tutorial and PDF download available here
This chart uses 9 DMC colors (1 skein unless otherwise stated): 712 (2 skeins), 3326, 742, 721, 471 (2 skeins), 470 (2 skeins), 3808, 550, and 310 (5 skeins)
You may also choose to use some specialty floss instead:
1. 0580 Orange Marmalade GAST (Gentle Arts Sampler Thread) instead of DMC721
2. 0980 Lagoon GAST instead of DMC3808 
3. 0810 Purple Iris GAST instead of DMC550
4. Kreinik #8 Metallic Braid in "032" for some added sparkle on stars
Finished Pattern Specs: 
Each Section:
Stitch Count: 54h x 223w 

Stitches used: Cross Stitch, Back Stitch 
Full Design:
Stitch Count: 219h x 223w
Stitches used: Cross Stitch, Back Stitch 
Bonus Circle Designs (for the top of the drums, or finish in a hoop):
Stitch Count: 53h x 53w 

Stitches used: Cross Stitch, Back Stitch 
Please make sure to cut your fabric at least 3" larger than the design on each side, 6" in total to each side.
---
Share this Product
---
More from this collection