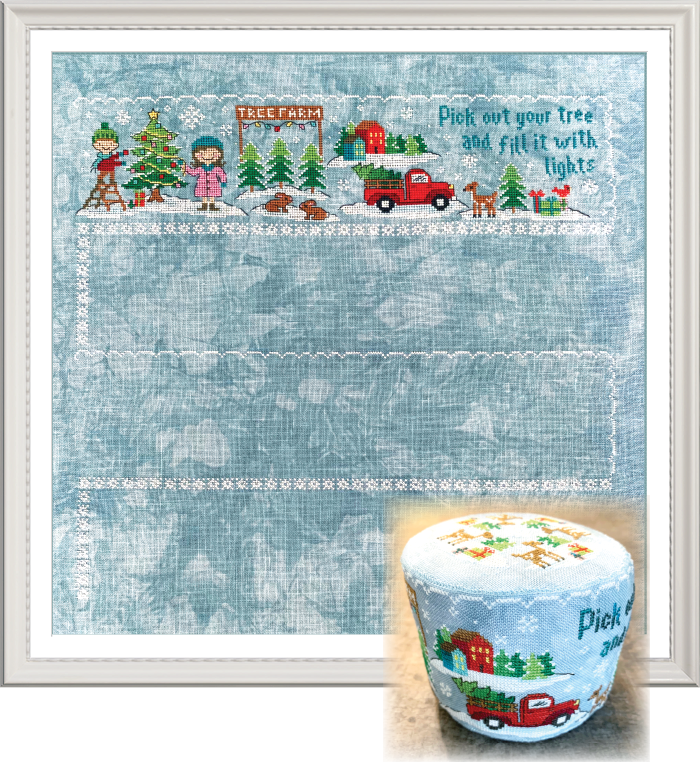 Tiny Modernist ~ 2019 Christmas Village SAL - Part 1 Tree Farm
---
Welcome to our 2019 Holiday Stitch-A-Long! This 4-Part Series features cute & festive snowmen, bunnies, deer, a tree farm, people, Christmas trees, and Santa, of course! Plus a holiday rhyme on every section.
This design can be stitched together as one large Festive Sampler, but if you prefer to try a different finish, each section of this design can also be stitched and finished into a Stackable Drum. There are 4 bonus circle designs (to use as the top of the drums) included with each of the 4 section releases, along with finishing instructions to make up the drums. See the sneak peek photo!
The price is a one-time fee, and includes the entire design and 4 bonus circle designs, over 4 monthly section releases. 
Release Schedule: 
FREE Border Layout Chart: Available now here
Part 1: September 1st, 2019 - Released!
Part 2: October 1st, 2019
Part 3: November 1st, 2019 
Part 4: December 1st, 2019

You can choose to stitch the entire border first, or wait and stitch each of the 4 sections as it is released. If you choose to stitch this design as a full sampler, download the free PDF border layout chart here.

There is a drum finish video tutorial and PDF download available here
This chart uses 16 DMC colors (1 skein unless otherwise stated): white (5 - 6 skeins), 945, 726, 604, 3801, 304, 704, 703, 702, 700, 747 (2 skeins), 959, 3848 (2 skeins), 435, 610, and 844
You may also choose to use a few (or all) of the specialty floss instead:
1. 0650 Lemon Drops GAST (Gentle Arts Sampler Thread) instead of DMC726
2.  0720 Victorian Pink GAST instead of DMC604
3. 7036 Geranium GAST instead of DMC3801*
4. 0310 Claret GAST instead of DMC304
5. 0280 Huckleberry GAST instead of DMC959*
6. 0940 Island Blue GAST instead of DMC3848 (4 skeins of 5yd/5m)
7. 7041 Apple Cider GAST instead of DMC435
8. 7066 Wood Trail GAST instead of DMC610*
*Please note: GAST is working on re-stocking these 3 colors, if they're showing out of stock we're still trying to get more: Geranium, Huckleberry, and Wood Trail. 
---
Share this Product
---
More from this collection