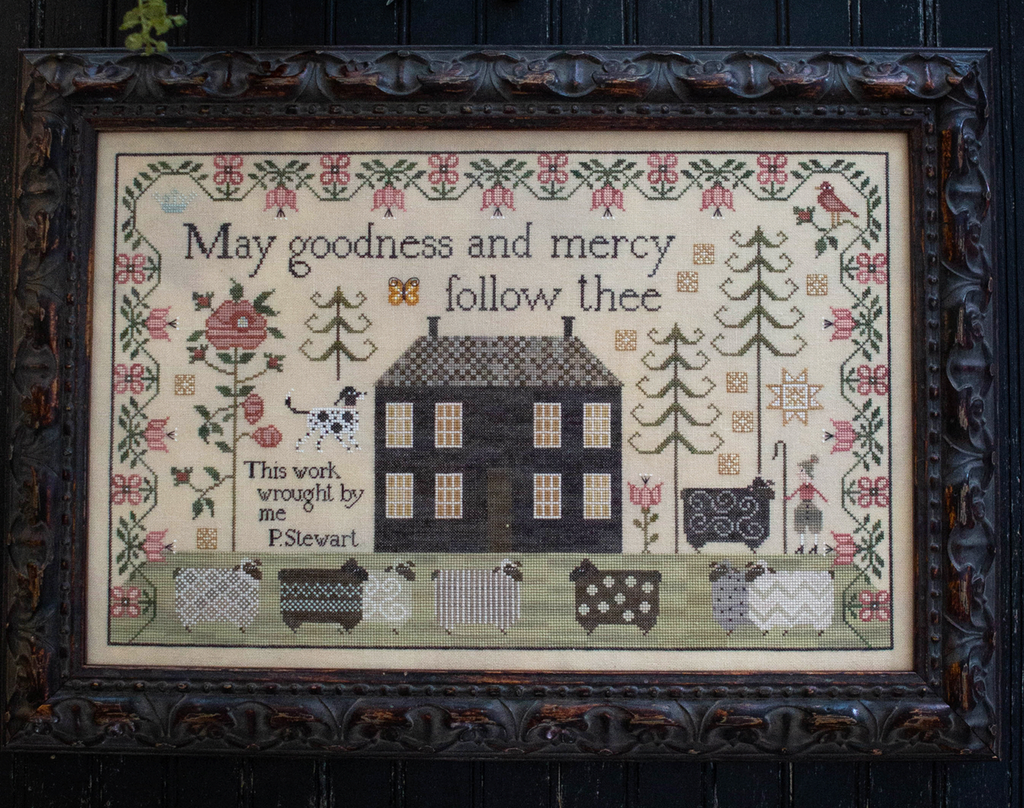 Plum Street Samplers ~ A Shepherd's Song
---
from Paulette:
A SHEPHERD'S SONG
I have wanted to design something based on Psalm 23 for fifteen years, and this is finally it. I realize my shepherd is actually a shepherdess in pantaloons, but I didn't want to call it "A Shepherdess's Song" because the twenty-third Psalm was written by King David - who happened to be a shepherd and musician before he became king. (If this is common knowledge, you have my humblest apology - I stay pretty isolated in my Nebraska bubble.) 
Stitch count: 285w x 178h
Threads used: (deep breath...) Classic Colorworks in Black Coffee (2 skeins suggested), Muddy Puddle, Wasabi, Lighthouse, Nature Trail (2 skeins sugg.), Pebble Beach, Hazelnut, Tennessee Red Clay, Cinnamon Toast, Rose Petal, Used Brick, and Snowball. Weeks Dye Works in Lily Pad, Seagull, Gold, Banana Pudding, Collards (2 skeins sugg.), Caper, and Seafoam. DMC in 728, 782, and 950.
Stitches used: Cross stitch over two threads, one thread, long-stitch, straight stitch.
---
Share this Product
---
More from this collection