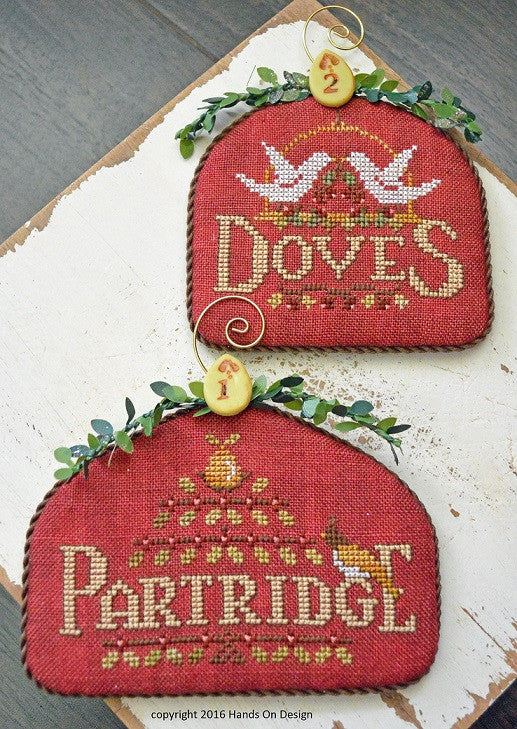 Hands On Design ~ 12 Days Partridge & Doves
---
From Cathy's Blog...
On 28ct WDW Aztec Red gingham linen, these will take a fat 1/2 yard to complete. I cut mine into approx. 9×9″ (Take your fat 1/2: cut it into 4 pcs on the 36″ side & then into thirds). I worked mine in an 8×8 q-snap. 14ct alternative: PTP has Tango. Not as deep a color, but a good shade & will work with existing floss shades. (Yes, the gingham is a subtle color. It doesn't photograph well. It does however, provide a nice touch of texture to this sweet series…)
– How big: these are all different shapes & sizes. I didn't want to infuse a size guideline as part of the design…the 'word' was the focus here. I tried to think 'ornament' size, but there is no way to abbreviate 'Partridge' or "Drummers'! The widest are approx. 5 1/2″ but all tend to end up around 4-ish". I am not doing a version where you stitch them all as one piece. (If you do…send me a picture for sure!)
–  Fibers: 2 each to complete the series. DMC 738. GAST: Carriage Black, Chives, Cornhusk, Mulberry, Old Brick. WDW: Chestnut, Grits, Whiskey (yes, DMC subs will be provided on the charts but this is a very hand-dyed thread friendly series…give them a try)
–  Buttons: entirely handmade…including the custom stamp, Just Another Button Company is packaging these to coordinate with the charts (2 days/pack). These are button, not pins. 
---
Share this Product
---
More from this collection